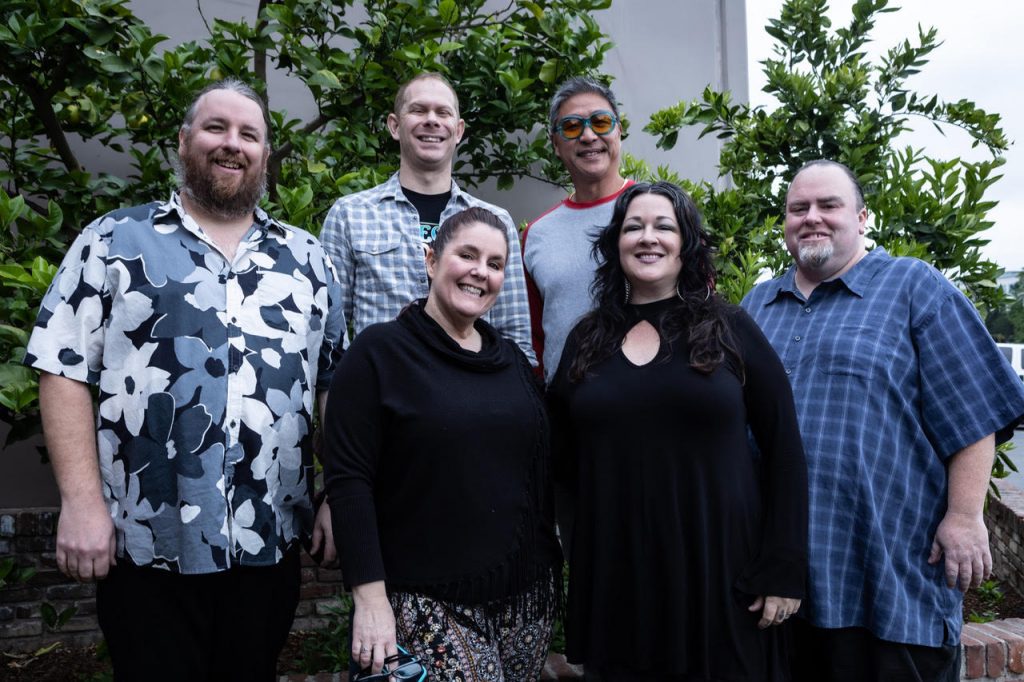 Eclectic Groove
Eclectic Groove is a 6-piece Southern California band that that boasts a diverse repertoire of originals and covers, that truly lives up to their name. Eclectic Groove draws upon a catalog of nearly 100 covers and 20 originals from every musical genre and period, ranging from the 50's and 60's up to the hits of today.
Eclectic Groove is comprised of four founding members, BigE, Cathy Hackett, Dave Poon, and Mike Wind. What began as an informal jam session gradually grew into a tightly focused and talented band, which was recently bolstered by new additions Melissa "Essential" Robin, and Sloan Tash. The core instrumentation consists of bass, guitars, and drums but in true eclectic fashion, Eclectic Groove also features trumpet, keys, auxiliary percussion, and breathtaking 4-part harmonies.
BigE does the heavy lifting playing multiple instruments including electric guitar, acoustic guitar, and trumpet all while adding lead and supporting vocals. BigE began playing music at a young age and it's no surprise he is now a music educator by trade. He enjoys inspiring young and aspiring musicians 9-5 during the work week, and rocking out with multiple bands on the weekends. BigE has been involved in many bands including Mudrat Detector: A tribute to Phish, local Jam-Grass band The Travelling Bier Bellies, The Bone Masons and Gilby Hagar & Friends. When BigE isn't on stage with Eclectic Groove, he is working with upstart jam project Tempel1.
Cathy Hackett is the lead vocalist for Eclectic Groove and brings 10 years of experience to the group. When she's not singing (and even WHILE singing), Cathy adds a wonderful texture by tastefully sprinkling in auxiliary percussion. She has been an integral part of the Southern California jam band scene and has been featured in groups such as Dead to the Core, Lightning Dan and the Crawdads, Baked Not Fried, Family Tree, and The Bencentrics. When she's not writing lyrics and singing in Eclectic Groove, she's also sitting in with numerous Southern California bands and belting out tunes in her other band, Rising Tide. Cathy has performed all over the map including SoCal, Las Vegas, Utah and New York. As if that's not enough, she spends her time as an educator, choir director, and musical director for for her school's plays.
Dave Poon is half of the foundation of the band and lays down the groove as Eclectic Groove's bass player. He literally plays music all the time, in bands too numerous to list. In addition to his musical prowess, he is known for his eclectic collection of sunglasses, mostly consisting of Happy Hour Shades (they're legit, check em out) and for his sweet lips.
Melissa Robin is Eclectic Groove's newest member. The addition of Melissa gives Eclectic Groove another talented lead and backup vocalist. Melissa grew up singing harmonies to classic rock hits with her father, who was always blasting tunes. For 13 years Melissa was a member of an award-winning barbershop quartet who spent their time traveling the country and winning awards. In addition to her dedication to Eclectic Groove, Melissa sings backup vocals with Larisa Stow and Shakti Tribe and if you're lucky, you can catch her singing with GRACEBAND, an Elvis tribute band. Melissa brings wonderful harmonies and inspired lead vocals that have helped bring Eclectic Groove to the next level.
Mike Wind is the second half of the rock-solid rhythm section, anchoring the beat while playing drums. Mike is a classically trained musician and has been playing drums and percussion for over 30 years. Mike was featured in Minnesota jam band, Gates Avenue, and spent his 20s touring the Midwest playing in clubs and colleges around Minneapolis and festivals in Wisconsin, The Dakotas, Iowa, and Arizona. Mike teamed up with BigE in Mudrat Detector and they toured the California coast, and on several occasions were featured in Lake Tahoe and the surrounding area.
Sloan Tash is Eclectic Grooves versatile singer and guitarist and hails from Long Beach, CA. He has played in bands from coast to coast for the last 25 years. He is inspired by Classic Rock, Funk, Soul, Classic Country, and Reggae. He can literally play it all. Despite his vast musical experience and wealth of knowledge, he still finds time to be inspired and learn. Sloan's powerful vocals and undeniably solid guitar skills have been a fantastic addition to the band.
Eclectic Groove consists of:
BigE: Guitar, Trumpet, Vocals
Cathy Hackett: Vocals, Auxiliary Percussion, Harmonica
Dave Poon: Bass, Sweet Lips
Melissa Robin: Lead and Backup Vocals
Mike Wind: Drums.
Sloan Tash: Guitar, Vocals, Keys